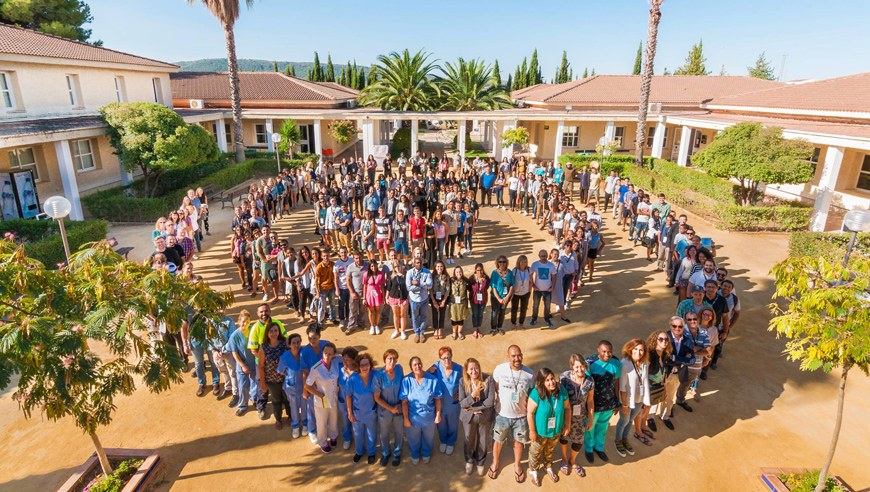 Share this!
AER – Youth Regional Network (YRN) is very proud to announce its partnership with the North-South Centre of the Council of Europe 20th University on Youth and Development which will take place in Mollina, Málaga (Spain) in September 2019. This will be also the occasion to celebrate the YRN Autumn Committee Plenaries themed around the UYD'S 2019 annual focus "Youth & Justice" in line with the UN SDG 16 – "Peace, Justice and Strong Institutions".

25 YRN members and youth representatives from all AER member regions can apply to be part of this reference platform for youth participation in Europe!
What is the NSC of the CoE University on Youth and Development?
The University on Youth and Development (UYD) is a partnership between the Spanish Government (INJUVE), the European Youth Forum (YFJ), the Spanish Youth Council (CJE) and other international youth-led organisations and youth-serving organisations aiming to:
Foster democratic participation and global citizenship among young people.
Uphold the universal principles, values and standards of the Council of Europe.
Implement the UN 2030 Agenda for Sustainable Development.
The Network –facilitated and coordinated by the North-South Centre of the Council of Europe– provides a unique space for youth empowerment, offers non-formal education capacity building activities and endorses policies, mechanisms and tools for youth development, in order to increase the recognition of youth as agents for positive change.
Focus 2019: Youth & Justice
In many countries, unequal access to justice and discrimination in the judicial sector create barriers to civic and political participation, especially for traditionally marginalised populations such as young people, women and migrants. Therefore, this year's focus on "Youth and Justice" provides a unique opportunity to reflect on young people's access to justice as an integral element for more fair and sustainable development. In fact, to provide youth with legal empowerment is fundamental, not only to meet their basic needs but also an essential step for inclusive growth, enabling young people to tackle social inequalities and hold authorities accountable.
Within this context, the SDG 16 is particularly relevant: accountable and transparent institutions, fair and accessible juridical systems and a society free from violence and discrimination are among the main elements that could guarantee a greater contribution from youth in translating policies into action towards the achievement of the UN SDGs.
To that end, it is important that governments, parliaments, local and regional authorities work together with youth organisations and with other sectors of civil society, ensuring more efficient mechanisms of youth participation and more inclusive decision-making processes, following a bottom-up approach.
Come to celebrate the 20th anniversary of the UYD!
Over 200 young activists, youth workers, experts from the field and decision-makers responsible for youth-related policies from all over Europe will meet in Mollina (Málaga) to exchange views and organise activities under the umbrella theme of "the United Nations Sustainable Development Goal 16: peace, justice and strong institutions". The 20th edition of the UYD will take place at the Centro Eurolatinoamericano de Juventud (CEULAJ), a venue awarded with the Council of Europe's Quality Label for Youth Centres.
From 15 – 19 September, the AER and YRN will participate and contribute to the programme with their own activities (training, workshop, seminars, etc.) within a common pedagogical framework: the Joint Programme. The joint programme of the University explores and develops the annual focus (Youth and Justice), giving the opportunity to all the partner organisations and their participants to reflect and interact around this topic, in view of a joint advocacy effort.
How to apply?
Applications are welcomed from members of the YRN and youth delegates from all AER member regions until the 12th of August. In order to prepare your application, you can check HERE the concept note of the 20th UYD and the call for activities for further information regarding the programme and practicalities.
A screening process will take place and selected candidates will be contacted no later than the end of August to confirm their participation in the UYD. The selected youth delegates will benefit from free meals and accommodation in single, double and triple rooms from 15-19 September. Additionally, the transfers from Málaga Airport and Antequera Railway Station to the venue will be facilitated by the organisation.
Have a look at UYD 2018!
Photo credits: @Council of Europe
Video credits: @UYD – NSC-Council of Europe
Follow AER!