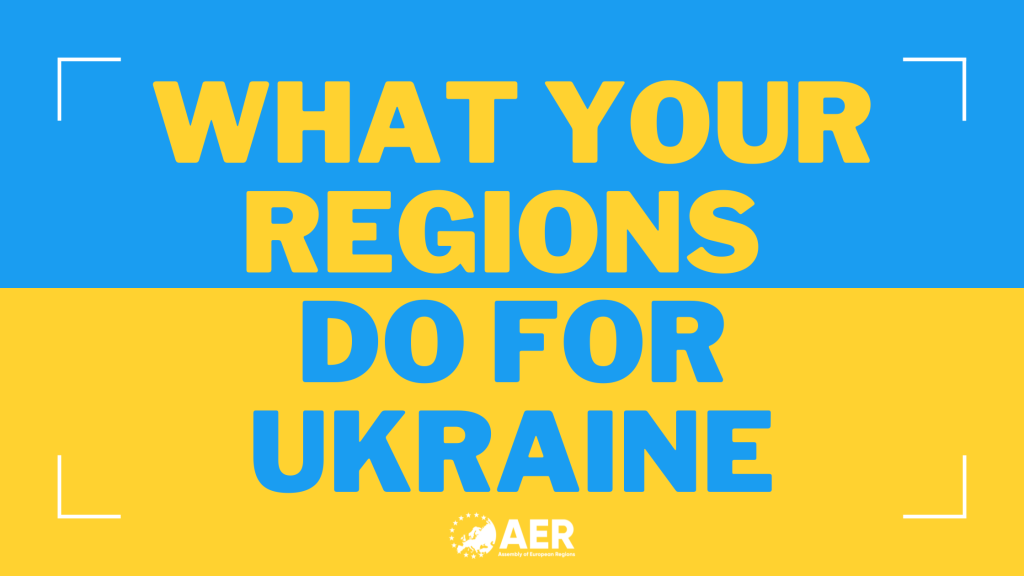 Share this!
Last February, Ukraine suffered the full force of Russian aggression. Russia's military invasion of the country marked the beginning of an escalation of violence that has led to thousands of Ukrainians losing their lives, millions more becoming refugees, and has thrown Europe into a military conflict on a scale not seen in decades.
In the six months since the invasion, European regions have mobilised to provide humanitarian, financial and psychological support to Ukrainians fleeing the conflict, and on the ground in Ukraine itself. On the political level, regional authorities have joined forces to reaffirm the European values of peace, rule of law and defending democracy in Ukraine.
In this article, we share stories of solidarity with Ukraine from our member regions Grand Est (FR) and Västra Göteland (SE), and set out how the AER, alongside our friends and allies at European level are taking a stand for the values Ukrainians defend every day.
Lending our political voice and welcoming new Ukrainian members
Two days before the invasion on 24 February, AER President, Magnus Berntsson and Secretary General, Christian Spahr issued a statement on the deteriorating situation along Ukraine's borders with Russia.
President Berntsson condemned in the strongest possible terms the use of "military threats and escalations to achieve political aims", and underlined that "Ukraine's internationally recognised borders must be respected based on international law." Soon after, AER Secretary General Christian Spahr stated: "The aggression against Ukraine is a disgrace and an attack on the whole European political order. Our compassion and solidarity in these dark hours are with all Ukrainians."
AER's commitment to the Ukrainian people continues at the European level, where we have worked with our institutional partners to build a truly pan-European alliance in support of Ukraine.
On 30 June, the AER joined the European Alliance for
Cities and Regions for the Reconstruction of Ukraine. This initiative by the European Committee of the Regions will focus on reconstruction needs of Ukrainian cities and regions, as part of the EU and international community's long-term support for Ukraine. The AER also supports the "Cities4Cities" initiative of the Congress of Local and Regional Authorities of the Council of Europe.
Most significantly, on 22 July, the AER announced we were honoured to welcome five new Ukrainian member regions: three full members: Chernivtsi Oblast, Lviv Oblast, and Zaporizhzhia Oblast, and two associate members: Odessa Rayon and the Association of self-governments "Euroregion Carpathians – Ukraine".
Local and regional authorities in Ukraine have taken up a huge responsibility in defending our common European values of democracy, rule of law and human rights. Through strengthening our presence in Ukraine, the AER will be better able to support local and regional authorities there through our members network, assist with capacity-building, and more broadly assist Ukraine on its European path.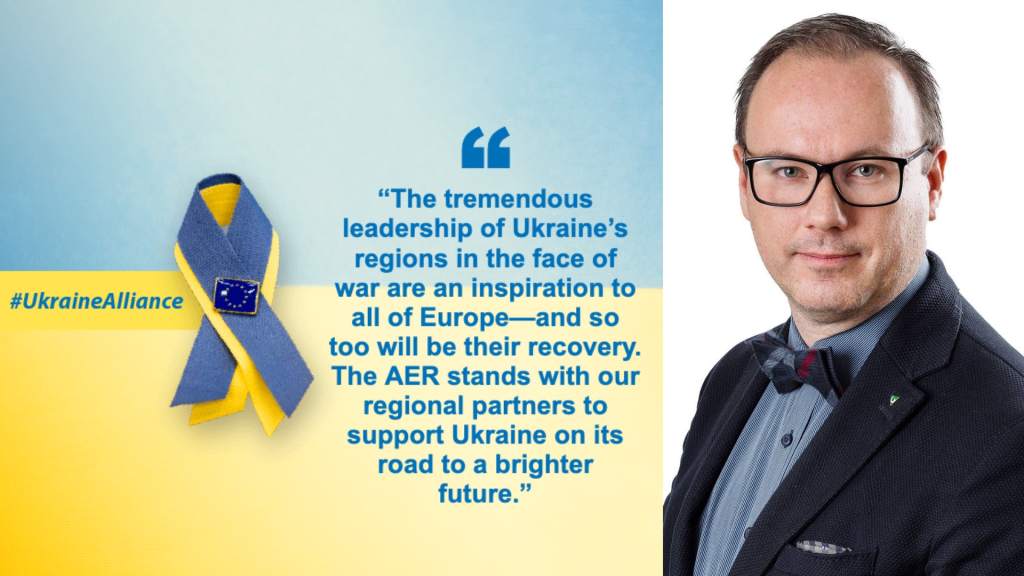 Solidarity on the ground—regions supporting Ukraine
Confronted with daily Russian attacks in their villages, towns and cities, it is no secret that Ukraine's regional governments are on the frontline of the war on the ground. Almost overnight, local governments found themselves having to shelter their citizens from soldiers and air-raids as homes were destroyed, while continuing to provide essential services during a horrendous humanitarian crisis.
The consequences of war and the ensuing humanitarian crises create enormous challenges for local authorities, in particular in the provision of safety, food, accommodation, shelter and medical care. But regions across Europe have, each in their own way, lended their support.
Act in a hurry for Ukraine – how Région Grand Est overcame logistical hurdles to get aid to Ukraine fast
Christian Debève, AER Treasurer and Chairman of the Grand Est International Relations Committee explained how his region mobilised support in the initial days of the conflict. To help civilians in Ukraine inside the country, Région Grand Est (FR) has deployed a series of emergency measures: including shipping humanitarian aid and other vital products.
Early on, like many French regions, Grand Est experienced an enormous outpouring of solidarity and generosity in terms of donations and offers to volunteer. However, coordinating individual, and often disorganised initiatives—coupled with the scale of the public response—was far from a simple process, as Mr Debève explained to us.
At the very beginning of the conflict, the region faced logistical challenges getting aid to where it was needed, at speed, in the most transparent way. Civil protection, a public relief service that assists the population during disasters, was overwhelmed with donations, but also by the desire of volunteers and donors to follow their donations and to know they were making an impact on the ground in Ukraine. Making sure this was possible with so many actors involved was far from a straightforward process in a region as large as Grand Est. As Mr. Debève explained, "it was necessary to make a real effort to boost internal coordination within the region."
So how did they manage? To overcome those challenges, Grand Est decided to adapt its politics; developing a partnership with the Lublin in Poland, a border region of Ukraine that has welcomed thousands of refugees.
With the help of a Polish wood transport company, trucks and trains full of aid were chartered to Ukraine via Lublin. Thanks to this partnership, Grand Est has so far sent seven trains carrying almost 700 pallets of aid, along with more than 30 trucks carrying other much-need essentials like water, non-perishable food, and hygiene products for women and children.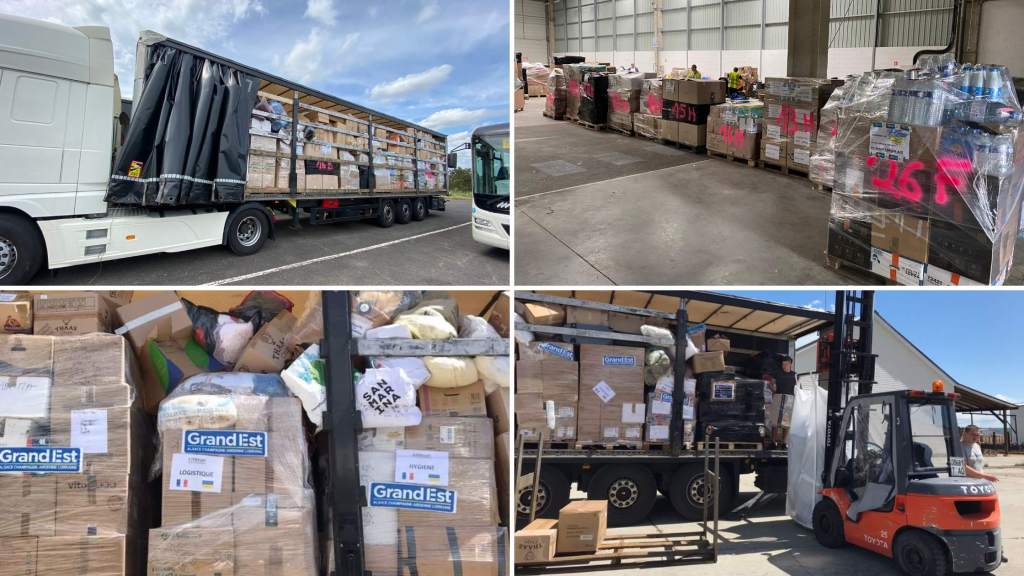 However, as the war enters is sixth month, new challenges are emerging. Media coverage of the war has lessened somewhat, and there is a real danger that 'conflict fatigue' will set in among the general public. This cannot lead to a drop-off in support or aid to Ukraine—especially with winter around the corner—as Mr Debève underlined at the AER's online meeting on local initiatives to support Ukraine: "It is important that there is sustainability in aid because the situation is dragging on—Région Grand Est will continue its efforts until the situation improves".
Regions helping at home: Västra Götaland's healthcare support for Ukrainians.
The humanitarian crisis is of course not confined to Ukraine itself alone. Almost five million people have become refugees. So how are regions across Europe supporting Ukrainians fleeing the conflict in their home regions?
Västra Götaland, Sweden's second biggest region and home of AER President Magnus Bertnsson, mobilised fast in anticipation of welcoming refugees. As soon as the war started, a task force with special authority and in cooperation with civil society was set up. This task force has three key priorities: the provision of healthcare, receiving refugees, and providing essential assistance and support.
Health care, "We must ensure that people who have fled war have equal access to health care." underlines Mr Bertnsson. In practice, this means free access to the Covid-19 vaccine, streamlined access to medical services and the creation of a simplified routine for healthcare examination.
Refugee reception: while much of the competencies for this are national, local and regional politicians and authorities "have been very helpful in facilitating dialogue between civil society and institutions by preparing to welcome over 35,000 Ukrainian in Sweden". The principal challenge, as in many regions across Europe is managing the housing of Ukrainian refugees. While this challenge was certainly anticipated and prepared for, regions like Västra Götaland are also working on managing housing issues in the long-term.
Assistance and support: coordination with private care providers has been established through the University Hospital of Gothenberg. Additionally, donations to Ukraine from private care providers are being channeled through the university hospital. Logistical coordination of donations to Ukraine from Västra Götaland has been centralised to boost efficiency. Donations (for the moment) include hospital beds, incubators, and more than a hundred kilos of surgical instruments.
In a similar way to Grand Est, President Berntsson underlines in his region, the urgency of the crisis "required better coordination to reduce bureaucracy and make sure barriers to aid were removed as much as possible."
It is clear then that the adaptability, speed of action and commitment of regions like Grand Est and Västra Götaland is essential both to support Ukraine itself, and managing the the urgent needs of Ukrainians in our villages, towns and cities across Europe.
But—most importantly—what are the perspectives of the Ukrainian regions themselves?
Views from Ukrainian regions—how can we better support them?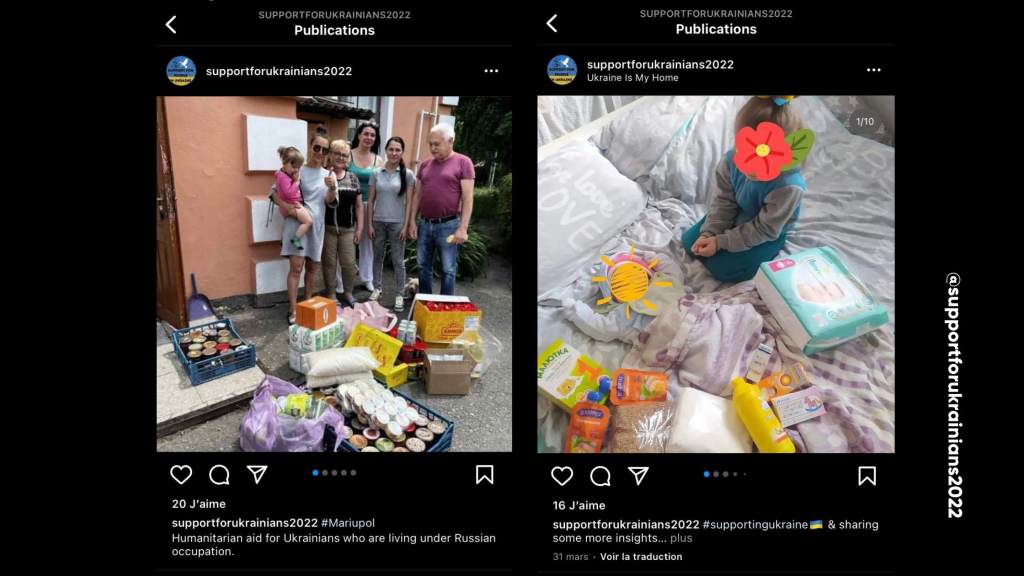 On 17 June, the AER held a webinar to hear from Ukrainian regions. The was an occasion to ask local representatives directly about their needs in terms of support. We heard from representatives of Ukrainian regions and regional associations.
It is necessary to express that helping Ukraine is not just about charity or altruism, "it is a matter of reaffirming the freedom, values and security of the whole of Europe", according to the Deputy Head of Chernivtsi Regional Military Administration, Ms. Iryna Isopenko.
The most important task facing local governments is to help people who have arrived from destroyed cities and are seeking refuge in safe areas. The Chernivtsi region, for instance, has so far temporarily housed 100,000 people in suitable housing. While waiting for conditions to improve in these destroyed cities, the most important thing at the moment is financial support to turn empty and abandoned houses into liveable ones over the next two or three months, before winter.
Another need is to support local businesses that have been relocated to safe areas. This is why they continue to need moral, humanitarian, military and financial support support from the outside.
Finally, we learned about the importance of civil society initiatives for Ukraine. Ms Annemarie Hertner, a policy advisor at the European Parliament of German-Ukrainian origin, explained how she launched a fundraising campaign at the beginning of the conflict "Financial support will not stop the war, but it can give people in Ukraine strength and means to survive," she explained. When the war started, she thought she could help by raising money, and was surprised that through her network within JEF Europe, nearly EUR 15,000 was raised in just one week.
The campaign continued to grow from there to meet needs on the ground. Informal volunteer groups were formed to direct donations of humanitarian aid. Based on trust and personal contacts (photographs of requested goods were used, for example), but without the need for official reports and other bureaucratic hurdles. This flexibility allows these volunteer groups to move at speed and get aid where it is most needed quickly.
European solidarity with Ukraine—why we must continue to act
In the end, in different ways, our regions all faced more or less the same challenges when it comes to helping Ukraine. Regions and citizens themselves have shown the real impact that European solidarity can have from a political and humanitarian perspective. We have to make sure this support for Ukraine continues—solidarity with Ukraine is noun, but it must also be a verb.
We therefore hope that this experience will convince us more than ever of Europe's role in bringing people together. We must not wait for the next crisis, whether health or geopolitical, to realise the extent to which European solidarity must be a matter of course.
***
Elèonore Debève is a Communications & Events Assistant the Assembly of European Regions (AER)
Read more about how AER supports Ukraine
Follow AER!