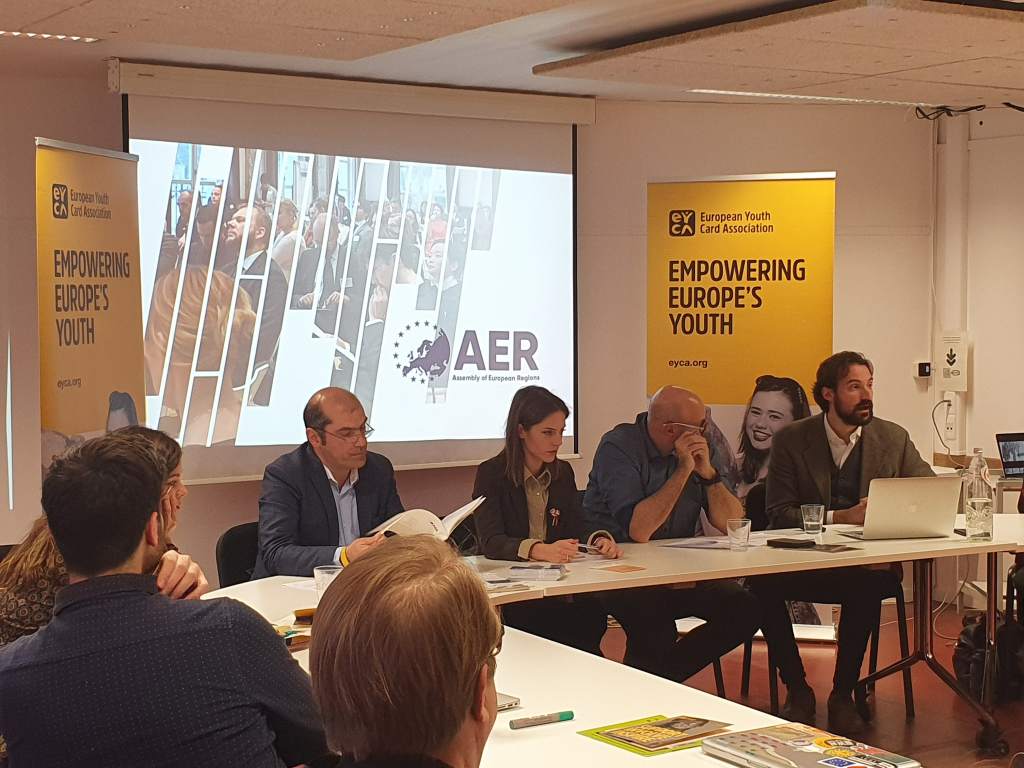 Share this!
The Assembly of European Regions (AER) participated in a Panel Debate entitled 'Social inclusion and youth mobility: challenges and opportunities at municipal and regional level' in the context of the Annual Seminar "Maximising Impact" of European Youth Card Association (EYCA) which took place in Brussels on 3-4 March 2020. This two-day discussion focused on empowerment policies for young people.
The panel debate on the 3rd of March, moderated by Manel Sánchez (EYCA Director), brought together Andrés Muñoz Rojo (AER), Patricia Couti (Eurocities) and Babis Papaioannou (EYCA member organisation in Greece).
Beyond Mobility
The discussion kicked off with Patricia Couti's presentation who emphasised the key role played by cities for on-the-ground implementation of social inclusion policies due to their proximity to citizens. She pointed out that integration and building inclusive societies are a two-step process which firstly requires awareness-raising actions and secondly the adoption of participatory approaches to effectively include young people in the decision-making process.

Indeed, Eurocities works closely with municipalities to involve young people in the design of local policies and strategies. However, active employment policies should be complemented by holistic strategies that address the multiple problematics affecting young people.
Inclusive Mobility
Andrés Muñoz Rojo, AER Programmes' coordinator, had the opportunity to introduce the work AER is doing to promote youth inclusion at the regional level through the AER's flagship programmes – Eurodyssey, Youth Regional Network (YRN), and the Summer Academy. In his view, mobility is generally perceived as a soft policy or an economic burden rather than a long-term investment which could eventually contribute to regional development. Furthermore, mobility can have many different positive "side effects" such as developing the sense of European identity, educating on democratic values, promoting tolerance, fighting discrimination or preventing radicalisation among young people.
Babis Papaioannou, EYCA member organisation in Greece, also stressed that mobility programmes have to be more inclusive, particularly towards vulnerable and socio-economically disadvantaged young people so no-one is left behind. A multi-level and multi-actor approach is needed for the sake of better coordinating the actions and strategies upholding equal opportunities with the support of the existing tools from the EU Institutions.
The words that emerged most during the debates – fair mobility, inclusion, participatory decision-making– proved the convergence of opinions regarding the important role of the municipal and regional authorities to tackle the challenges surrounding fair mobility.
AER is pleased to have been part of the EYCA Seminar and looks forward to new cooperation opportunities in the near future!

Follow AER!