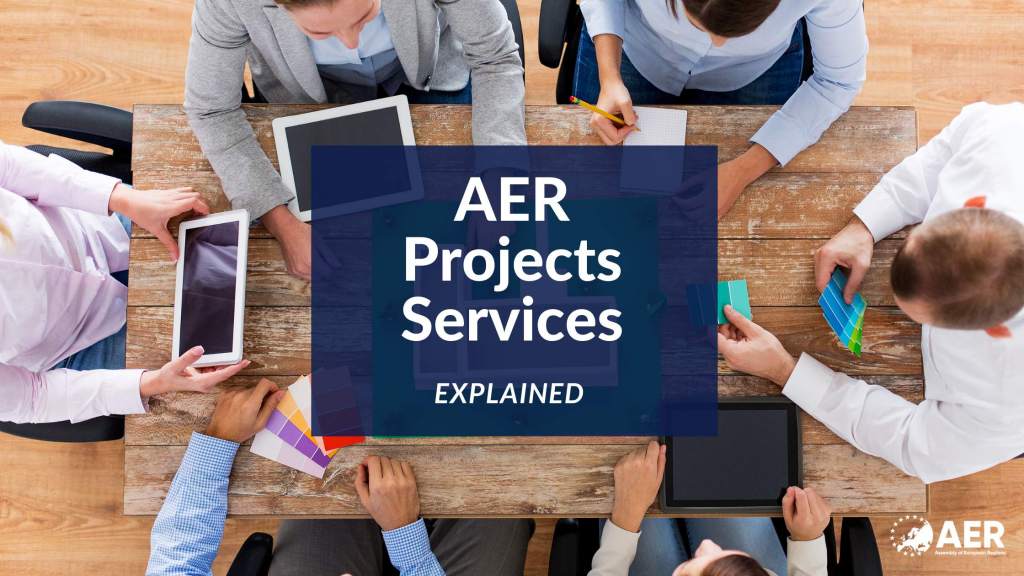 You might have noticed that in the past months, despite the ongoing restrictions, your mailbox was still actively populated by AER project's activities updates, invitation to workshops and webinars organised within the framework of some EU co-funded project with and for our members.
This is because we haven't stopped! On the contrary, the Project Unit from the AER Secretariat is now bigger than ever -with 5 colleagues ready to support AER's work and bring additional capacity and fresh ideas to the network.
We believe it is high time to remind our members what we can offer and how in turn they can engage with us in the framework of transnational projects funded by the EU 7-year programmes.
In a nutshell, we are operative on mainly 2 working areas:
Direct support to member regions for projects application, partner search and mapping of fundings;
Implementation of AER's own projects with active involvement of our member regions.
Direct support for your projects application, partner search and mapping of fundings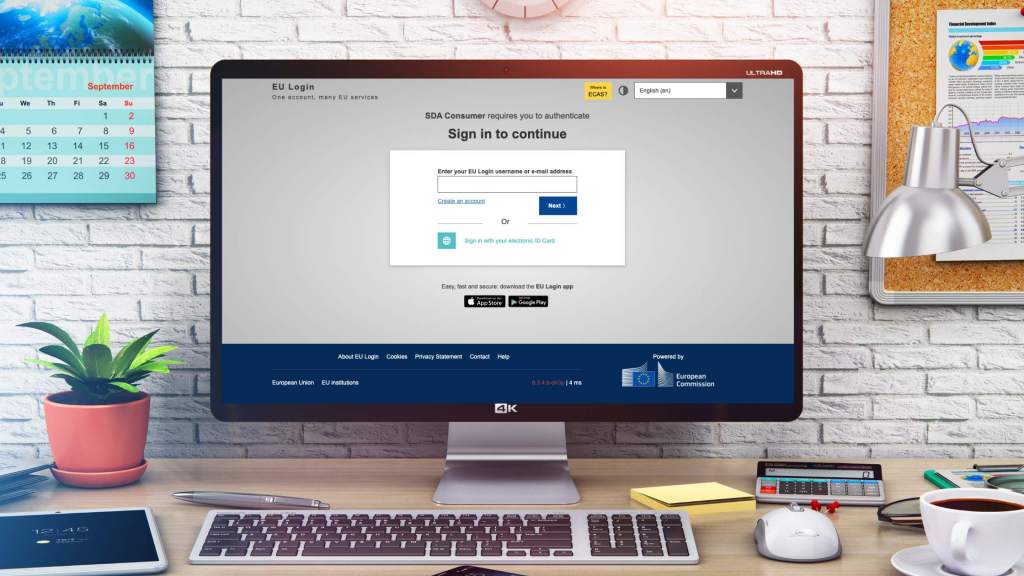 The new Multiannual Financial Framework (2021-2027) offers unprecedented opportunities to benefit from direct fundings and contribute to EU's policy priorities such as digital and green transformation. Among the call of proposal, Horizon, Erasmus+, Creative Europe, Digital Europe programme are just some of the EU funding programmes where AER can offer its support and expertise.
In particular, AER Project Unit can offer:
Support on partner search and acquisition:
Is your region building a consortium and you miss a partner with a specific expertise or from a specific geographical area? We support you by contacting potential partners within and outside our network. AER can count on a big network of different stakeholders and organisations with thematic expertise.
If your region does not have a project idea yet but would like to join a project consortium as a partner, you should regularly check our website, on the "Look for Partner" section, as well as monitor our newsletter. But do not fear! If time is not on your side, just make sure to share with us your preferred areas of interest, and we will be the one to be contacting once the perfect opportunity for your region comes up. Check the Look for Partners section in our website!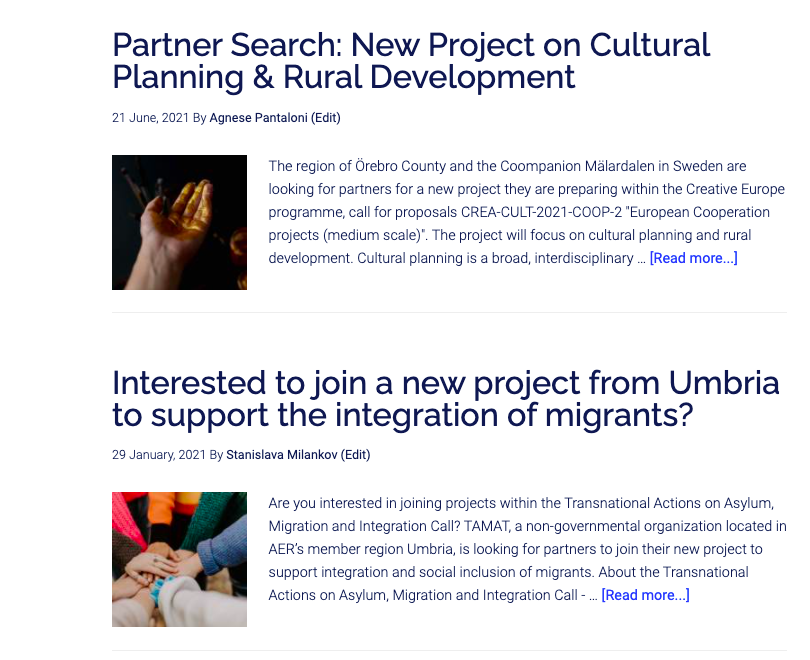 Support for project writing, submission and reporting
If we collaborate on a joint project application where our members are taking the lead, our unit is glad to put their expertise at disposal for drafting the application in areas such as project management, and dedicated work packages (knowledge transfer, dissemination).
When it comes to complex EU-project terminology for instance, It is not easy to navigate and explain all the "outputs, outcomes, deliverables, work-packages and results" required by the application form. We can therefore help to align the project with the Commission's priorities and language. Additionally, we are of great support to review the project and make it coherent throughout all its phases and packages, and finally, we can help with the technicalities needed for the submission, such as moving the first steps in the EU portal or revising the budget lines.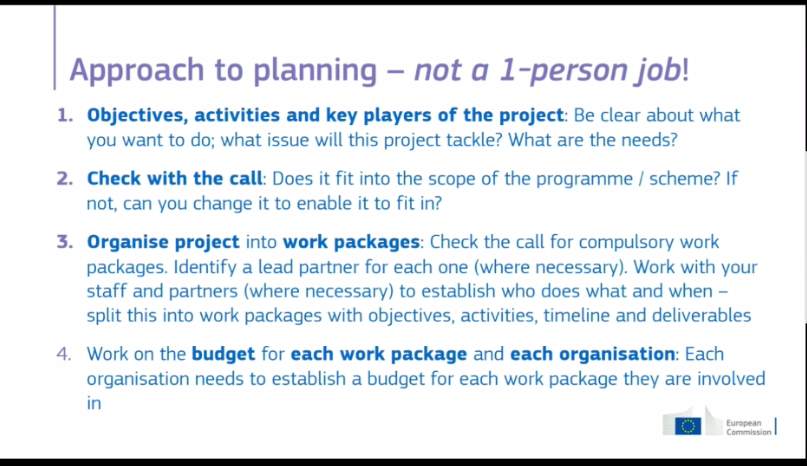 Mapping of funding opportunities
Lack of ideas or no time to juggle through the many calls available at EU level? We know that once the Funding Opportunities portal is open, it feels pretty much like opening a Pandora box! Our unit regularly provides information in forms of articles ( in our funding opportunities dedicated page) as well as info-sessions and webinars.
Specifically, we have been very active lately in unboxing the new MFF thanks to dedicated EU funding seminars upon request of some of the member regions. We acknowledge the importance of providing accurate and timely information to our members, and we are glad to announce that we will follow up with a webinar on direct fundings on 24 of September 2021 (save the date!) with a special focus to Erasmus+, Horizon, Digital Europe and Life Programme.
2. Implementation of AER projects with active involvement of our member regions
As AER, we ourselves lead or participate as partners in projects that we carefully select on the basis of the value we can bring to our members. For us, it is paramount not to see projects according only their scope or lifetime within the project but we always strive to contribute to AER's mission, that is, to connect and empower regions.
As such, AER projects additional services for members are:
Possibility for AER members to attend the workshops and webinars led by AER even if they are not part of the consortium;
Cooperation with member regions outside the consortium to shape the content of the workshops: our regions are often the protagonists of our events and we are proud the showcase their success stories, developments and practices;
Strengthen cooperation with European Commission, other EU agencies and institutions and international partners from which our regions may benefit in terms of inter-institutional relations.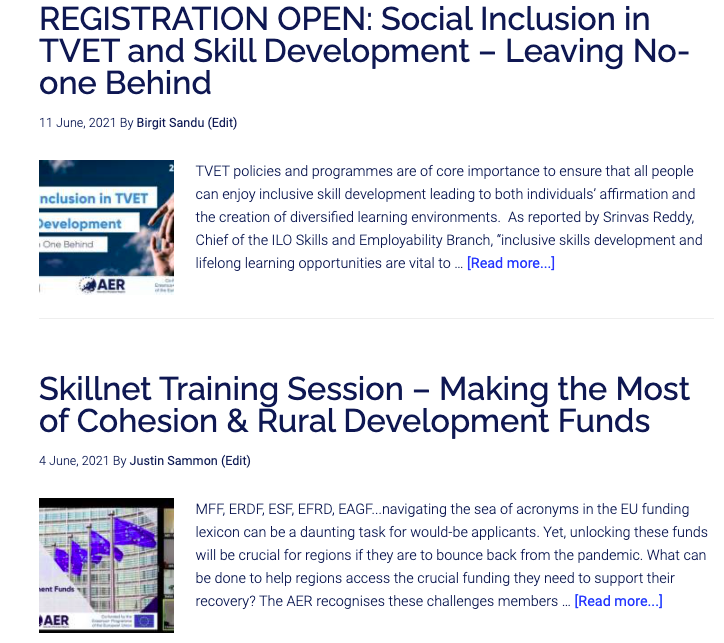 Latest updates on projects proposals
After a general overview on our main services, here an up-to-the-minute update on project unit activities in regards to new applications, with the hope to increase our cooperations in the areas of projects.
We are actively looking into the opportunity of submitting joint AER-members project proposals in prioritised areas of interest for members.
In particular, we are now exploring:
the possibility of creating a consortium, with AER, one of the member regions as lead partner, with other regions and regional VET providers on board, on Digital and Green Skills for Regional Innovation Ecosystems (Erasmus+ Partnership for Innovation: Alliances for Education and Enterprises). During the implementation of the Skillnet project, considerable know-how and best practices have been exchanged, and we acknowledged that the topic of Skills raised high interest among the AER member regions, hence confirming the importance of strengthening these areas, especially in view of the development of new economic models (green and digital). If you are interested in participating in such a project, and would like to take part at the first online meeting, please contact:

[email protected]
The possibility to follow up on our Cubes Project, with the involvement of some of our regions who are interested in the topics of Sustainability in cultural heritage and Culture as a driver for sustainable development. Please contact:

[email protected]
If would like to raise a further topic for which AER could activate a consortium building and map opportunities, or have any other questions on the above services, please contact:
Looking forward to working closer together!
The AER Project Unit


Follow AER!

Share this!