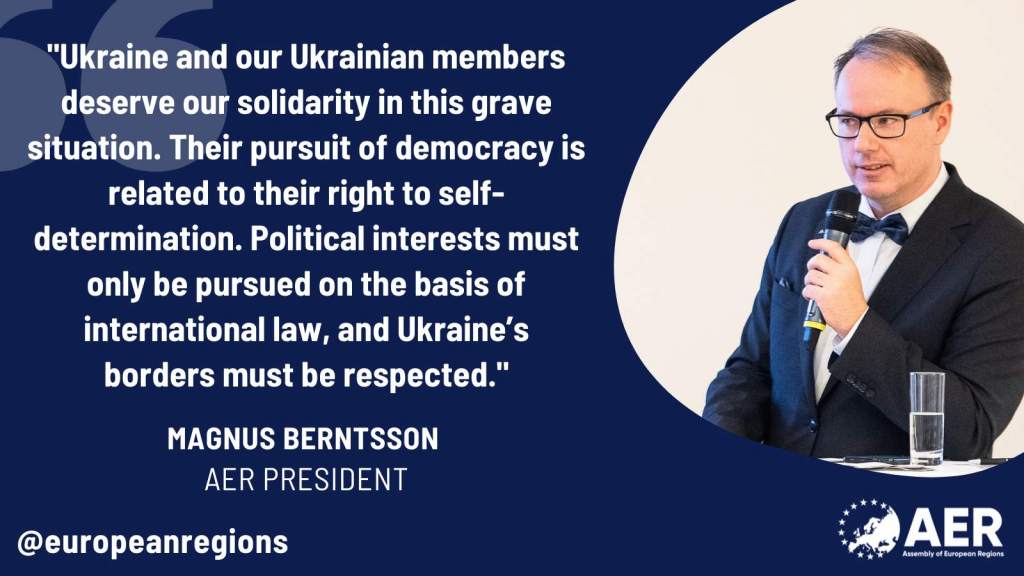 Share this!
Ahead of the Russian invasion of Ukraine, on 22 February, AER President, Magnus Berntsson and Secretary General, Christian Spahr issued a statement of solidarity with the people of Ukraine on behalf of the Assembly of European Regions.
In line with the values of democracy, mutual respect and dialogue that underpin the Statutes of the Assembly of European Regions, the President condemned in the strongest possible terms the use of "military threats and escalations to achieve political aims, and underlined that "Ukraine's internationally recognised borders must be respected based on international law."
Soon after, AER Secretary General Christian Spahr stated: "The aggression against Ukraine is a disgrace and an attack on the whole European political order. Our compassion and solidarity in these dark hours are with all Ukrainians. It is heartbreaking to see the pictures from Kyiv, Kharkiv, and other cities of friends." He further noted that several AER members across Europe "are already organising humanitarian assistance for Ukrainian citizens in this grave situation."
Read our statement here:
Donate to relief efforts for Ukrainian citizens
The AER has compiled a list of charities working on the ground to provide humanitarian relief in Ukraine for members that wish to donate (data for transfers and contact details of the responsible persons can be found on the respective websites):
https://www.facebook.com/promoteukraine – Brussels-based Ukrainian civil society hub collecting donations for children, female war veterans and other recipients who can be chosen when donating;
https://unitedhelpukraine.org/ – this US-based non-profit organisation provides medical supplies and humanitarian aid;
https://voices.org.ua/en/ – this foundation in Eastern Ukraine helps children affected by the war, providing support through art therapy, psychological assistance, video storytelling and other methods;
https://www.peaceinsight.org/en/organisations/crimea-sos/?location=ukraine&theme – this Ukrainian NGO that assists internal refugees, especially from Crimea;
https://razomforukraine.org/projects/zhadan/ – non-profit of famous Ukrainian writer Serhiy Zhadan supporting a variety of educational, cultural, and healthcare initiatives in communities ravaged by war;
https://tabletochki.org/en/dopomagati-ce-legko-2/ – a Kyiv-based foundation supporting children with cancer. They procure medicines, equipment and arrange overseas treatment, among other supports.
Read more about how AER supports Ukraine
Follow AER!