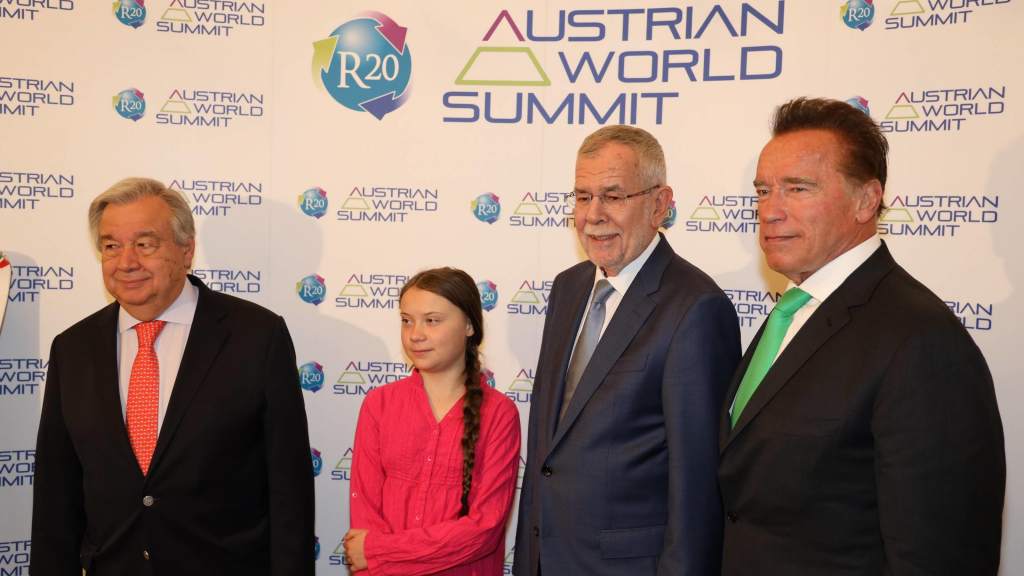 Share this!
"We are in a crisis – a climate crisis". During the R20 Austrian World Summit, Greta Thunberg, the 16 year old activist from Sweden delivered a moving speech calling on the world leaders to influence, to make an impact and to start protecting our world. Indeed, the Summit saw world leaders joining together calling for nations to reaffirm their commitment to the Paris Agreement. Leaders such as Alexander van der Bellen, Federal President of Austria; the United Nations Secretary General, Antonio Guterres; and Arnold Schwarzenegger, Chair of the R20 and former governor of California delivered key note interventions calling on us to act now. Antonio Guterres delivered a strong message that we needed to "end fossil fuel subsidies and to stop using taxpayers' money to destroy the world". At the current rate of action, the world would warm by 3C not the 1.5C envisioned. The main message of the Summit was to reaffirm the need for climate action, goal 13 of the UN Sustainable Development Goals (SDGs).


As such, during this Summit there have been discussions on many different topics related to the SDGs. Today, the AER and R20 President, Magnus Berntsson participated in a panel on Sustainable Cities (goal 11) and specifically carbon-neutral housing & mobility. He shared the stage with Arnout Smit from the Arnhem Nijmegen City Region, Rana Adib, Executive Director of REN21 and Claire Roumet, Executive Director of Energy Cities. During his intervention, Mr Berntsson stressed the importance of partnerships and cooperation with one another. Furthermore, the need to share and spread the example to other regions and the world.
Meeting with Minister-President Winfried Kretschmann of Baden-Württemburg to discuss electrification and future collaborations between their regions.

Meeting with ICLEI President/Mayor of Bonn Ashok Sridharan
Mr Berntsson also provided examples regarding the topic of mobility and the how the move to electrification is moving much quicker than what was originally planned. This means that there is much more planning that needs to be done in order to pass this benefit to the citizens. Additionally, he advised that in his region of Västra Götaland, they showcased how the electrification of buses has other effects such as lowering greenhouse gases in urban environment as well as the decrese in sound changing how city can plan their city. This was demonstrated by having a bus stop in a library.
Following Mr Berntsson's intervention, Fran Pavley, former California State Senator provided concrete examples of what is being done in California to combat climate change. Many of her examples showcased how climate action comes from the cities, exemplifying the importance of regions, cities and local governments play in being the change to reach the Paris Agreement.
Follow AER!