Share this!
On the week of 7-11 March, AER President Dr Hande Özsan Bozatli and AER Secretary General Mathieu Mori, will meet Presidents, Ministers and other regional representatives from seven Comunidades Autonomas of Eastern Spain.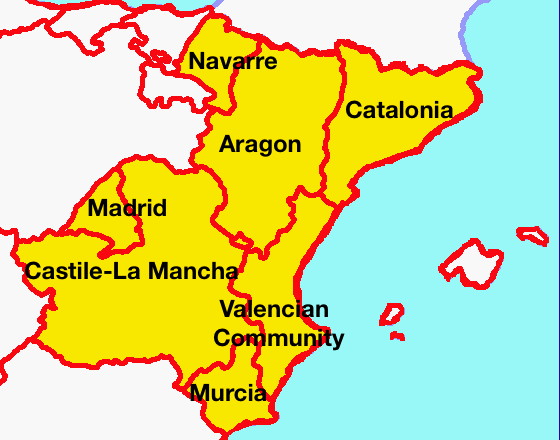 Dr. Bozatlı and M. Mori will visit three AER members (Valencia, Catalunya, Murcia) and four non-member regions (Aragon, Navarra, Madrid, Castilla La Mancha) for this week long tour in order to deepen the existing links with its members and introduce AER to non members. Presenting the new ways of working of the organisation; sharing on the political priorities and the major topics of relevance for the regions and exploring new paths of cooperation will be at the heart of discussions. 
This trip is part of an initiative to strengthen the Southern European representation within our Assembly. Southern Europe has been particularly affected by the economic crisis in previous years making in some cases European cooperation less of a priority. With a gradually improving economic situation and increasing challenges in the Mediterranean it is time for AER and Southern European regions to strengthen their cooperation even more. 
In the same manner, AER will lead a similar mission in Italy. From 4-8 April, ten Italian regions will be visited by the President and the Secretary General.  
You can follow the AER official trip to Eastern Spain day by day, on our Twitter and Facebook accounts.
Meetings feedback

Monday 7 March, Valencia
Meeting with Myriam Fernandez Herrero, in charge of finances and European funds. Valencia will take the opportunity of the AER Spring Committees' Plenary in Timis (RO) to engage in new topics within AER. Thanks for great meeting and see them soon!

Tuesday 8 March, Catalunya
Meeting with Maria Badia i Cutchet, Vice-President in charge of Foreign Affairs, Marta Vilalta i Torres, regional councilor in charge of youth, Montse Mirabent, politician in St Boi and Esther Estany Campos from the labour department, in charge among other things of Eurodyssey in the region.
The meeting led to a convergence of view between AER and one of its historic partners. Agreement that the cooperation must continue and deepen. As a consequence, on top of the region's already big implication in the Eurodyssey programme, Ms Marta Vilalta i Torres, young politician from the region will present her candidacy to chair the AER sub-committee on youth at the next AER plenary meeting in Timis (RO)

Tuesday 8 March, Aragon
Fruitful meeting with the President of the Comunidad Autonoma de Aragon, Mr Francisco Javier Lamban Montanes. Interested in the work of AER and willing to cooperate especially in the fields of transport (international connectivity, Atlantic/Mediterranean corridor) and culture (recognized universities in visual culture that need better visibility), Aragon and AER have a lot to share and we hope to find in this dynamic region an active partner for the future.

Wednesday 9 March, Navarra
AER President and Secretary General met Ms Ana Ollo Hualde, Regional minister for institutional relations and spokesperson of the Government.
At a time when the Navarra government is redefining its European strategy, AER's visit was very timely. Involved in some smaller thematic networks, the government representative showed great interest in the activities and diversity of topics dealt with in AER. Being involved in such a wide and strong network would give Navarra's action in Europe a bigger dimension and help them find new partners to cooperate with.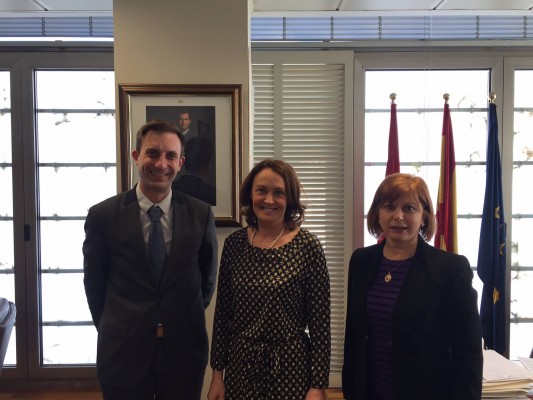 Thursday 10 March, Comunidad de Madrid
Dr Hande Özsan Bozatli and Mathieu Mori met with Ms Yolanda Ibarrola de la Fuente, regional councilor from the Comunidad de Madrid in charge of European affairs. A fruitful exchange took place on the priorities of the region of Madrid: employment, health and the environment. Interested in the way AER works with its members to promote the best practices and voices of regions on these topics, it is a trustful dialogue which began today between AER and the capital-region of Spain.

Thursday 10 March, Castilla la Mancha
Good meeting with a region led by a strong political will to increase its European profile and influence. AER President and Secretary General met in Toledo with Mercedes Gomez Rodriguez, coordinator of institutional relations and European affairs and Francisco Javier Pedraza Rodriguez, head of European affairs in Castilla la Mancha. In this rural region touched by a high unemployment rate but with plenty of potential and innovation-oriented, increasing its profile in Europe and finding partners throughout wider Europe and beyond is a priority. AER applauds the political vision of the government and is ready to help the region reach its goals!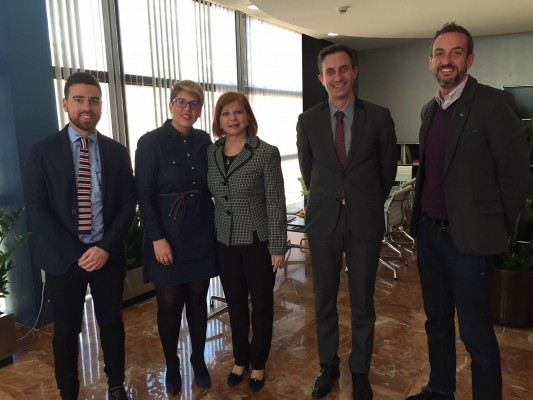 Friday 11 March, Murcia
Final meeting for AER President and Secretary General was in Murcia. This AER member region was represented by Ms Noelia Arroyo Hernandez, Culture Minister and government spokeswoman; Mr Manuel Pleguezuelo Alonso, Director General for public participation, European union and external affairs and Mr Francisco Javier Sánchez López, Director General for Youth. The young and enthusiastic representatives of the new Murcia government started by saying how pleased they were by the AER Eurodyssey mobility programme as they send every year more and more young people to get a first job experience. Further involvement in AER activities was touched upon, especially on culture, youth and Mediterranean affairs. The invitation was also made to AER to organise an event in Murcia. AER is looking forward to always deeper cooperation with Murcia.
A positive end to an intense week of meetings. Going directly to the contact of the regions, in their environment, will enable AER to answer their needs even better. Understanding the reality of our territories to better serve their development is our core mission. Back to basics with this initiative !
Follow AER!