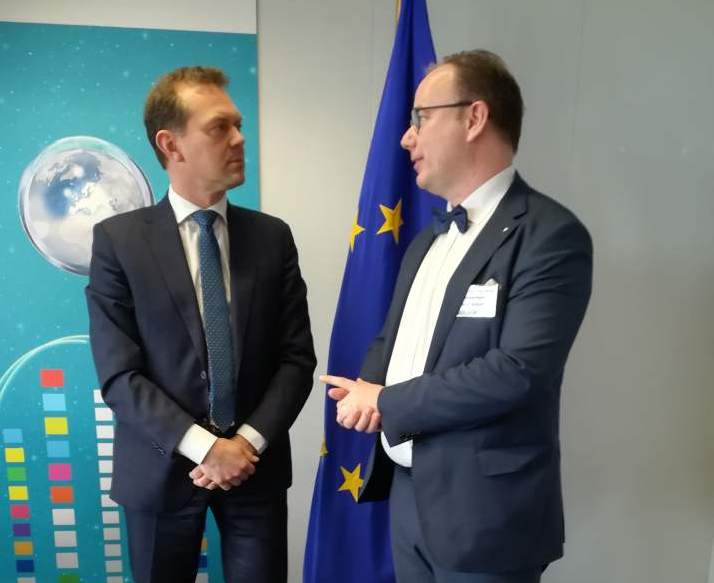 Share this!
AER President Magnus Berntsson and Secretary-General Mathieu Mori today met with the cabinet of Carlos Moedas, European Commissioner for Research, Science and Innovation, to discuss the future of social innovation in Europe.
Magnus Berntsson introduced the AER position on social innovation and exchanged views on some important issues under consideration in the future EU research and innovation policy.
The AER President said "Regions play a vital role in tackling societal challenges and promoting social innovation. Engaging them in the next framework programme for research and innovation and its missions is therefore instrumental".
The meeting covered a range of issues of interest to European regions, including the support to regional innovation ecosystems, the synergies between the future framework programme for research and innovation and cohesion policy, innovative public procurement and the use of smart data.
The Cabinet is looking forward to continued collaboration with AER on furthering the engagement of regional authorities on the future EU R&I.
Social Innovation
AER position on social innovation
The AER's Autumn Bureau meeting took place in Nijmegen, Gelderland (NL) on 22 November 2018 to debate the role of social innovation for tackling societal challenges.
At the meeting, AER Bureau members adopted a position on social innovation, setting out AER's views and recommendations on how the EU can best boost social innovation across Europe, supporting regions' leadership role in driving social innovation.
Social innovation can be defined as the development and implementation of new collective responses to society's pressing demands through a process of collective empowerment and learning, which should enable more effective public policies and improved quality of life.
Because of their closeness to citizens and the competences they hold, regional and local governments are key to enabling EU territories and citizens to reach their full potential in contributing solutions to societal challenges. AER's position calls upon the European Commission, the European Parliament and Member States to:
– Better and more explicitly recognise the role of regions in tackling societal challenges through social innovation
– Facilitate and promote the participation of regions in EU initiatives tackling societal challenges.
The position was proposed by Albert Castellanos, Catalonia (ES), as Chair of the Social Innovation Task Force and is the result of an extensive consultation with AER members. It will serve as a background for AER's advocacy work towards European institutions on the future of social innovation beyond 2020.
The Catalan government experience
In this context, Catalonia has been promoting several actions to boost social innovation.
Among them, the government has launched local challenge-driven social innovation projects that aim at creating a network of labs (Catlabs) that can contribute to collaborative innovation by developing new solutions and policies to address territorial social challenges.
More and more practical examples are emerging in Catalonia, many of them in the local world, which demonstrate that through collective innovative action more effective public policies can be implemented. These are policies that respond better to the needs of citizens and create greater impact and more new business opportunities, generating both economic and social value.
Follow AER!