Accor, the leading hotel operator in Europe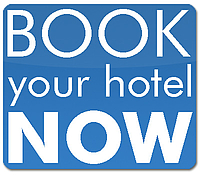 Accor, the world's leading hotel operator and market leader in Europe, is present in 92 countries with more than 3,500 hotels and 450,000 rooms. With more than 160,000 employees in Accor brand hotels worldwide, the Group offers to its clients and partners nearly 45 years of know-how and expertise. As a partner of the Assembly of European Regions, all our members can enjoy a 10% discount on your stays.
 A portfolio of strong brands:
Accor provides an extensive offer including complementary brands—from luxury to economy—that are recognized and appreciated around the world for their service quality: Sofitel, Pullman, MGallery, Novotel, Suite Novotel, Mercure, ibis, ibis Styles, ibis budget, hotelF1 as well as Thalassa sea & spa.
Nearly 45 years, Accor has constantly reinvented its businesses to keep pace with the world around it, with the goal of providing innovative, high-quality products. Thanks to the powerful, highly respected brands, the Accor employees forge lasting interpersonal relationships and deploy their unique skills to develop and deliver solutions that create wellness.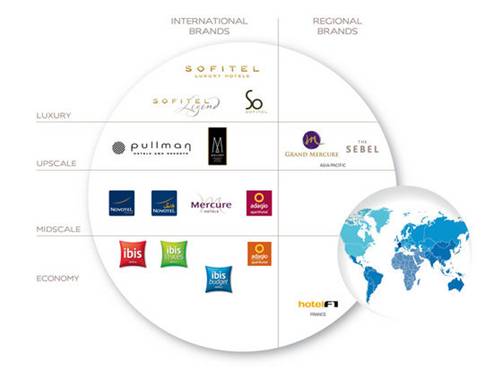 Every day, around the world, the Accor Group employees are pleased and proud to:
provide travelers with the solution best adapted to their needs and a guarantee of the highest quality of service,
create services for corporate clients and public institutions that support their development,
enhance their performance and simplify the daily lives of employees and constituents.
Le Club Accorhotels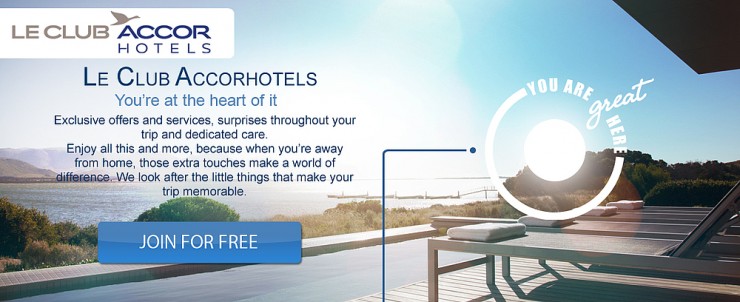 With Le Club Accorhotels, you're at the heart of it! More than just a loyalty program, Le Club Accorhotels looks after you throughout your stay.
Enjoy a VIP welcome on arrival, exclusive offers throughout the year and advance access to discounts of up to 50% at our hotels several times a year. And that's not all!
You'll always feel at home
Enjoy a warm welcome all over the world at any of the 13 brands in the Le Club Accorhotels loyalty program, whether luxury or economy. With 2,700 participating hotels in 92 countries, rest assured you will be acknowledged and rewarded no matter where you are.
Points for each stay
Your stays at Accor
Earn points from your purchases at 2,700 hotels around the world: hotel nights, breakfasts, food and drink in the bar or restaurant, spa treatments, and more.
Our bonus point offers 
To see our exclusive offers, log on to Accorhotels.com using your email address. We will also inform you of our bonus point offers by email.
Facebook Places
Earn bonus points for each stay through the Facebook app, "Places by Le Club Accorhotels", by simply stating in which of our Accor properties you are staying..
Our partners
Our partners also regularly allow you to earn Le Club Accorhotels points. See our partner list here.
Life of your points and changes in your status
Points valid indefinitely
Just one stay per year in a participating hotel is all you need to ensure your points never expire.
Changes in your status
For each status change, you will receive a new card valid for 1 year.
You can reach a higher status during the year provided you earn enough points or stay the required number of nights.
Find out more here
Your rewards
A large choice of rewards as soon as you reach 2,000 points. (2000 points = 40€/60$USD**)

Reduce your bill at our hotels:
› Log on at Accorhotels.com or any participating Accor brand website, select your stay, and when you see the icon below, deduct your points** from the cost of your booking in just a few clicks.
› You can use your Le Club Accorhotels Rewards vouchers for any non-pre-paid booking made at Accorhotels.com, Accor brand websites, our call centres or directly through the hotel.
Use your customer account to order your Le Club Accorhotels Rewards vouchers worth €40. Print these vouchers and use them at any of our participating hotels to pay for all or part of your stay.
Fly using miles
From your customer account, convert your Le Club Accorhotels points into airline miles valid on major international airlines.

Get regular access to VIP events…
Be our VIP guest at events specially selected for you. Movie premiers, sporting events, shows, musicals, private visits to historic sites, concerts…
… and dream trips
From time to time our most beautiful properties offer packages that you can book entirely with your points.
Use your points with our partners
Your Le Club Accorhotels points can be used with our partners.
Discover our partners here
**For every block of 2,000 points, you have the choice of either deducting 2,000 points (i.e. €40) from your next stay by booking via Accorhotels.com, Accor brand websites, our call centres or directly at the hotel, or ordering a Le Club Accorhotels Rewards voucher worth €40, valid for six months from issue.
For more info about Le Club Accorhotels. Click here