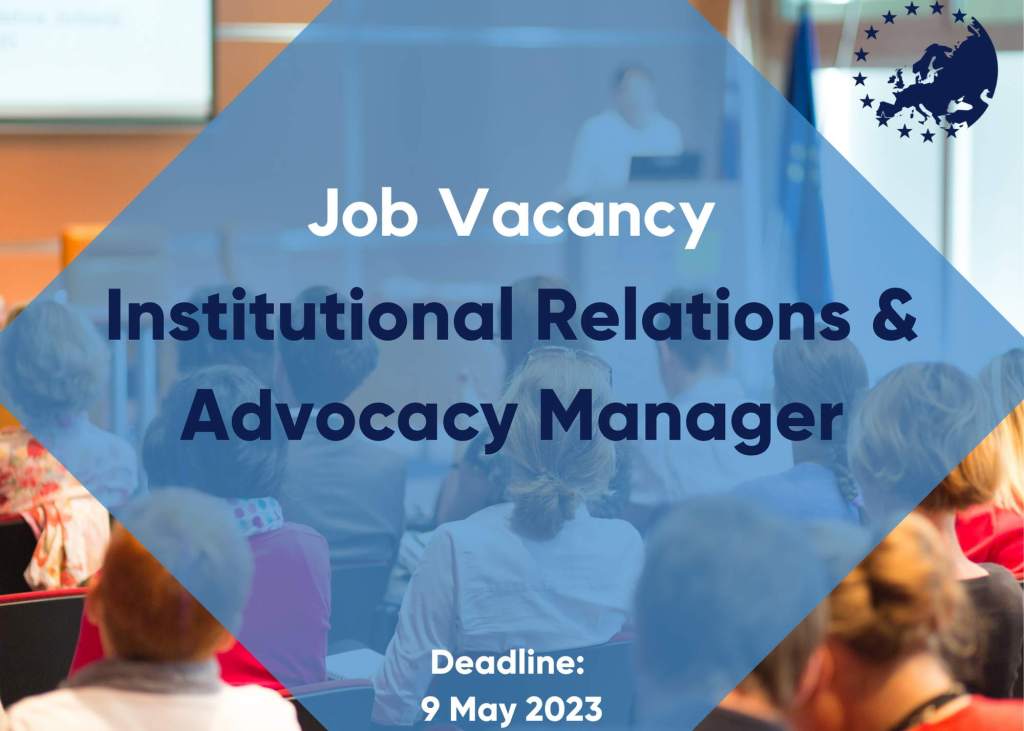 Share this!
Role Description
Reporting directly to the Secretary General and under the guidance of the Institutional Relations & Advocacy Coordinator, the Institutional Relations & Advocacy Manager will play a central role in implementing the AER's advocacy strategy, in collaboration with the AER's members. The holder of this position will develop and maintain strong relationships with institutional stakeholders in order to maximise influence and deliver strategic objectives.
Key Responsibilities
Implement AER's advocacy strategy in order to promote regional interests and influence European and international institutions;
● Coordinate and facilitate the work of Bureau Task Forces;
● Support AER's involvement in European and global policy debates and processes and influence policy makers on key areas for local and regional authorities;
● Promote AER's advocacy messages across coalitions and networks at European and global level;
● Prepare policy and advocacy materials, including briefings, speeches, position papers and submissions to institutional stakeholders across several policy areas, such as cohesion policy, employment, social affairs, inclusion, democracy, innovation, climate, environment, and/or energy;
● Plan and organise policy and advocacy meetings;
● Support the development and implementation of advocacy activities within approved projects;
● Contribute to general secretariat work.
Person Specification
● University degree in a subject related to AER work (e.g. Political Science, European Studies, International Relations, Economics, or other courses related to this profile)
● 3 years of experience in development and delivery of advocacy strategies and/or in institutional relations, including relevant volunteering experience or internships, with minimum 2 years of full-time professional employment
● Knowledge and experience of working with institutional stakeholders or influencing key decision-makers, preferably in the context of local and regional authorities or on the European level
● Understanding of regional development challenges and multilevel governance
● Excellent written and oral communication skills
● Ability to develop policy positions and write high-quality policy and advocacy materials
● Fluency in English
● Legal right to work in Belgium
Key Information
Contract: Part-time – 80% position with one-year contract under Belgian legislation (renewable)
Location: Brussels
Salary: €2.200-€2.400 (dependent on experience)
Other benefits: thirteenth salary; meal vouchers; teleworking allowance; allowance for commuting; hospitalisation insurance.
What we offer
● Working for togetherness, solidarity, good governance, and innovation
● Promoting values and sharing best practices across Europe
● Opportunities for personal growth and widening your horizon
● Being part of a small team, which means the contribution of every person on the team is important
● Using cloud-based team collaboration tools, which help us for community building
● Attractive employee benefits and 14 extra holidays next to the legal holiday rights
● Or, in short, being part of the coolest network in wider Europe!
How to Apply
To apply for this vacancy, please send a cover letter (one page) along with your CV in English, a written reference of a previous employer, and a copy of your university diploma, to: [email protected] ("AER Institutional Relations and Advocacy Manager" as the subject line)
Deadline for application: 9 May 2023 – 23h59 CET
Interviews (indicative days): 12-16 May 2023
Only shortlisted candidates will be notified.
Follow AER!