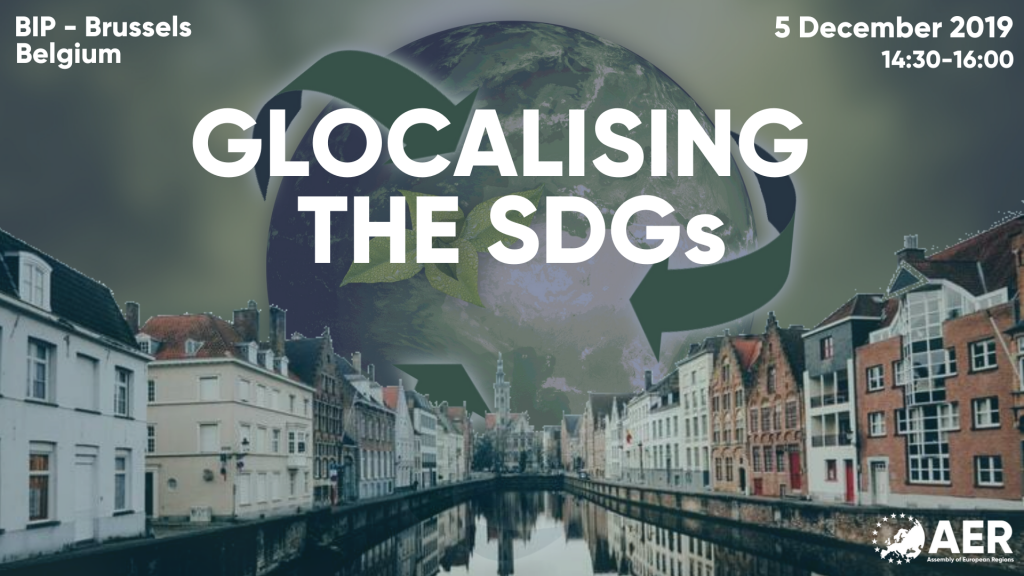 Share this!
The AER debate on Glocalising the Sustainable Development Goals will take place in Brussels on 5 December from 14.30-16.00.
As we approach the decade of delivery of the 2030 Agenda, including a comprehensive review of its Sustainable Development Goals (SDGs), and the European Union (EU) debates how it can follow up on its commitments by 2030, this panel debate will reflect on the contribution of local and regional authorities to the 2030 Agenda and invite views on how we can more effectively localise its goals.
Local and regional authorities are at the forefront of development. Their role in realising the 2030 Agenda has been increasingly acknowledged. However, much more needs to be done to meaningfully engage them in the implementation, follow up and review of its global goals.
One of the most fundamental challenges is the localisation of the SDGs. The sub-national contexts are not always embedded within the national SDG strategies, compromising the alignment of efforts, as well as the ownership, coordination and partnership principles which are the foundation of the 2030 Agenda. One major reason for this limited localisation process is the lack of effective multi-level mechanisms for coordination and follow up of the SDGs.
Bringing together local and regional authorities, institutional and civil society stakeholders, this event will explore how Europe can accelerate progress towards the achievement of the 2030 Agenda by securing the effective localisation of its goals. We will also hear insights on how to articulate EU cohesion policy programmes with the local and regional efforts towards the SDGs implementation.
The debate will be hosted by the AER Task Force on SDGs, chaired by Magnus Berntsson, President of AER and Regional Minister of Environment and Vice-President of the Regional Council of Västra Götaland, Sweden.
Speakers
Erik Bergkvist – Member of the European Parliament
Juan Carlos Lopez Cecilia – Territorial Partnership Advisor, United Nations Development Programme
Arnoldas Abramavicius – European Committee of the Regions Rapporteur on Sustainable Development Goals
Maria Nikolopoulou – Member of the Sustainable Development Observatory of the European Economic and Social Committee
We look forward to seeing you there!
Registration here.
Participants are warmly invited to attend the morning Bureau Meeting, but if you are interested in attending only the panel debate on "Glocalising the Sustainable Development Goals' please follow the instruction below, as the Registration Form applies to all the day's events:
– Click on this link for the Registration Form
– Fill all the relevant fields with your personal information
– Reply "no" to the section concerning the morning sessions
– Reply "yes" to the section concerning the afternoon session (14:30-16:00) on the SDGs
Follow AER!