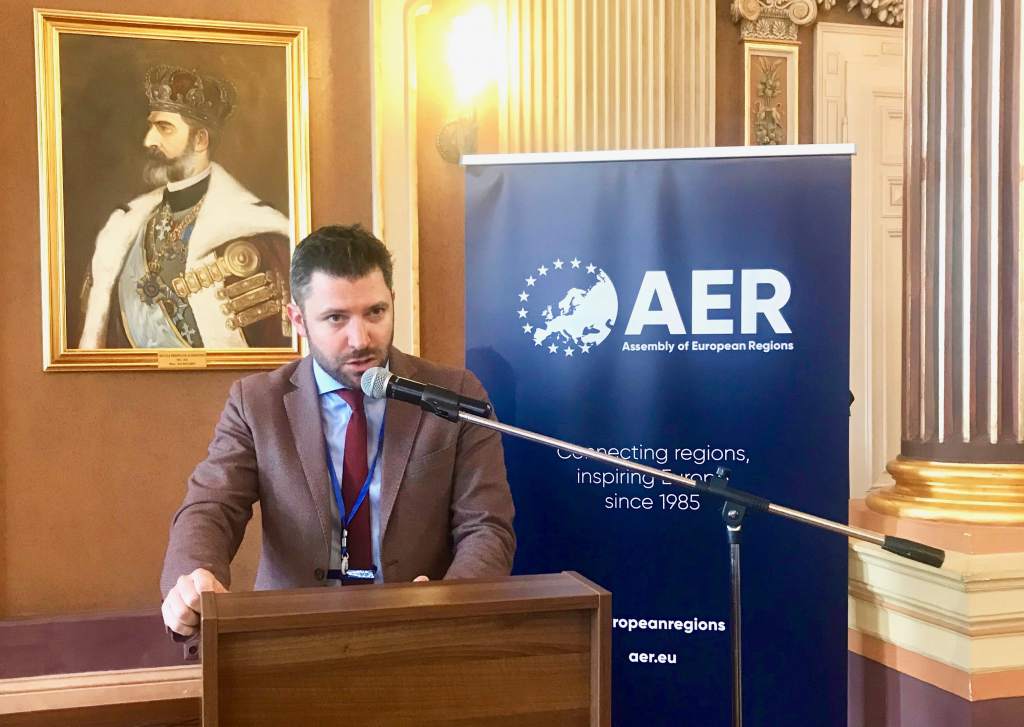 Share this!
AER's Spring Committee Plenaries took place in Arad (Romania), from 20 to 22 March 2018 in the very beautiful location of the City Hall of Arad. The City Hall is one of the most beautiful public building in Arad. "Ferdinand" room is a spectacular location and the warm welcome of the host made our stay even more pleasant. The astonishing building embodies one of the most significant works of eclectic architecture in the city. At the time of building "Palazzo del Municipio", was reflecting the citizens of Arad will to follow the European model of urban renewal and modernisation. The central tower is 54 meters high. The clock situated at the top of the tower was brought from the Netherlands. Its bell marked each half-hour for almost a century. After 1989, it was reconditioned, and once Romania joined the European Union, the song played at each passing hour was replaced with the Anthem of Europe. This European spirit is still present this days.
AER brings together regions, so that they may stand stronger together, and grow in a space of best practice exchange. A milestone at the Spring plenaries was the development of the Committees work programmes: all regions were invited to share initiatives they would like to develop within the network, with the AER priority "A democratic, cooperative, inclusive and sustainable Europe of Regions". The plenaries are the perfect place to find partners to develop new collaborations and projects and their implementation.
The Committees' plenaries: it's all about sharing & learning
Across wider Europe, regions engage in multilevel cooperation to support the development of innovation ecosystems either within their own territory, or in collaboration with neighbouring regions and cities, in national and cross-border frameworks.  This kind of approach of regional policy is not something new to our members, just to mention two of our main topics in our committee: Arctic Light Conference focused on e-health, and Silver Economy (SEED).
At the core of our activities are two major topics: health and social affairs, which nowadays translates in Youth Mental Health which is a good example of Committee 2 and Committee 3 cooperation and Artificial Intelligence, that shows the cooperation between Committee 2 and Committee 1.
Migration and integration are not new to Europe, but the current refugee and migrant crisis is on a scale unseen for decades. Europe's institutions and national governments have yet to forge proper responses – but rising tensions point to the need for a realistic and comprehensive policy that addresses both challenges and opportunities.
Integration issues, if not addressed effectively, will only serve to fuel discontent and create divisions. Policymakers need to avoid emotion and quick-fixes, and see migration and integration as an asset rather than a threat. Member regions address this topic ever since 2015 and an ongoing project I would like to highlight is AMiD, project for the inclusion of migrants with disabilities. This project will provide opportunities for experience sharing and capacity building in this area for all AER members.
Contact
President of Committee 2 for Social Policy and Public Health
Follow AER!