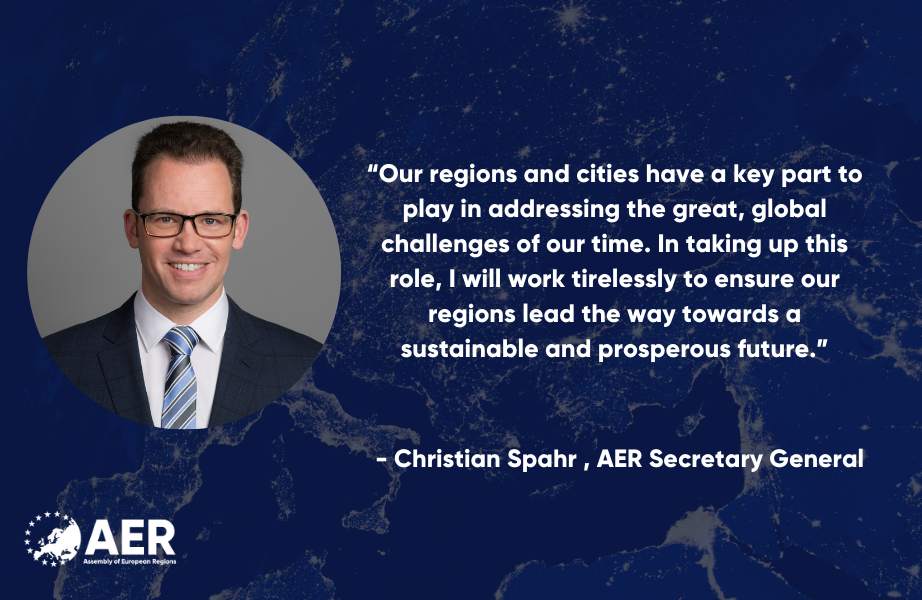 Share this!
The Executive Board has appointed Christian Spahr as the Secretary General of the Assembly of European Regions (AER), which represents regional governments in wider Europe. A former European Commission Spokesperson for Regional Policy, Spahr will lead the work of the AER Secretariat, which has offices in Brussels and Strasbourg and also includes the AER's Southeast Europe Hub in Alba Iulia, Romania. He takes over the role in November from his predecessor Mathieu Mori, who led the daily work of AER from 2013 until 2020.
Christian Spahr, a German national, has held a number of key management roles in the fields of European policy, communications and media. Between 2018 and 2020, he was in charge of the European Commission's media relations on issues of economic governance and Cohesion policy, among other topics. From 2012 to 2018, Spahr led a ten-country programme of the German think tank Konrad-Adenauer-Stiftung in Southeast Europe, based in Sofia, Bulgaria. Earlier in his career, he worked as a spokesperson for Germany's digital business association Bitkom, and was business editor for a large regional newspaper. He is also a founder and board member of a non-profit association for government communication, serving in an honorary capacity.
Announcing Mr Spahr's appointment as Secretary General, AER President Magnus Berntsson first thanked his predecessor, Mathieu Mori: "for his strong dedication to building stronger regions and successfully managing our ambitious and transformative organisation with 150 member regions."
"The Executive Board is very happy to welcome Christian Spahr as our new Secretary General", Berntsson continued. "With his knowledge of European policymaking, management experience in member-driven organisations, and an excellent working knowledge of the EU and its neighbourhood, Christian will be a key player to overcome the challenges for regions ahead." Some of the AER's current and ongoing priorities are to strengthen subsidiarity in times of crisis, to ensure sustainable development including in rural areas, and to equip regional governments so they can successfully transition and use EU funding.
Speaking of his appointment, Spahr said: "It will be a great privilege to work for the hopes and ambitions of Europe's regions. Many of them need to reinvent themselves for the future, to strengthen their economy and develop better living conditions in difficult times. In line with AER's inclusive and bridge-building approach, I am committed to offer the regions an even greater package of support."
His predecessor Mathieu Mori explained: "In the past decade, AER could play its part in building stronger regions and striving for more solidarity in Europe. I am grateful for this inspiring experience and would like to thank the AER President and Executive Board for their support and trust; the team for their professionalism, and all the AER members and partners for their engagement and passion."
Spahr will formally take up his role on Monday, 2 November 2020.
***
The Assembly of European Regions is the political platform of regional governments in wider Europe, with direct membership of public authorities from 30 countries. As the largest independent network of its kind, AER promotes the regions as key players in the European project, as well as democracy and good governance.
For press inquiries, please contact our Communications & Events Officer, Justin Sammon via email at [email protected]
Follow AER!