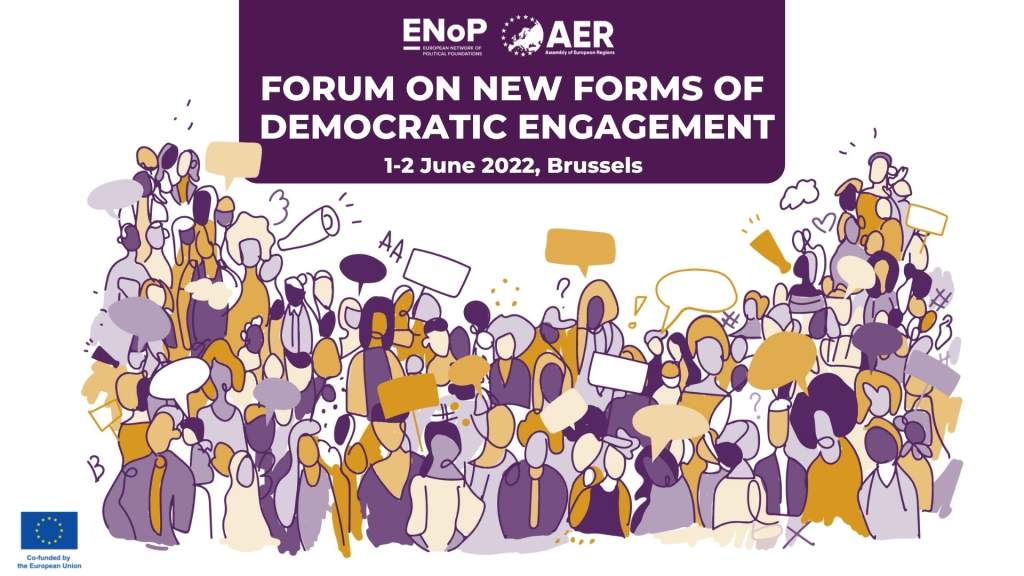 Share this!
How to actively involve citizens in policy development in order to regain political trust and add legitimacy to political decisions?
The Assembly of European Regions, in cooperation with the European Network of Political Foundations (ENoP), is delighted to invite you to the first joint forum on new forms of democratic engagement, taking place in Comet Meeting-Louise and online on 1 June 09:30 to 2 June 16:45.
During this occasion, key representatives from all levels of governance –European, national, regional, and local–will gather together to discuss the tools and mechanisms in place to enhance deliberative democracy and the opportunities and challenges of direct involvement of citizens in decision-making processes. Moreover, the conclusions of these discussions will aim at fostering and supporting the design of deliberative policies and approaches in the European Union and its partner countries.
Building upon this, ENoP and AER are partnering up in a project that will capitalize on successful examples and good practices of deliberative democracy in Europe, while at the same time discussing the full potential and future of direct involvement of citizens in democratic processes.
Speakers Include:
Marcin Gerwin, PhD, Center for Blue Democracy, Specialist in Deliberative Democracy and Sustainability
Toma Šutić, Member of the Cabinet of Dubravka Šuica, European Vice President for Democracy and Demography
Aleksandra Dulkiewicz, Mayor of Gdansk, Poland
Mathilde Bouyé, Démocratie Ouverte & World Resources Institute – presenting the French Ctizens' Convention on Climate
Prof. David Farrell, The Irish Citizens' Assembly Project
Karl-Heinz Lambertz, Rapporteur of Congress of Local Regional Authorities, and President of the German-speaking Community of Belgium
Lukas Mandl, Member of the European Parliament; and Vice President for European Integration & Wider Europe, Assembly of European Regions
More speakers are to be confirmed so stay tuned!
Check out the Programme HERE
Contacts: Gisela Guari Cañada, Institutional Relations & Advocacy Officer, [email protected] Anna Comacchio, Project and Policy Officer, [email protected]
Follow AER!